If you've heard of palm oil, you've probably heard it's bad for the environment. But the truth is it doesn't have to be.
How it works
We celebrate companies that use Certified Sustainable Palm Oil in their products. The more companies transform their supply chain, the more Australians can enjoy their favourite treat free from deforestation.
What you can do
Ready to protect Sumatran Tigers? Here's what you can do:
Choose brands that use 100% Certified Sustainable Palm Oil
Visit the WWF Palm Oil scorecard, select your favourite products and then show your support for those companies who are taking the right action to protect tigers
Share the news with your friends, there is such a thing as good palm oil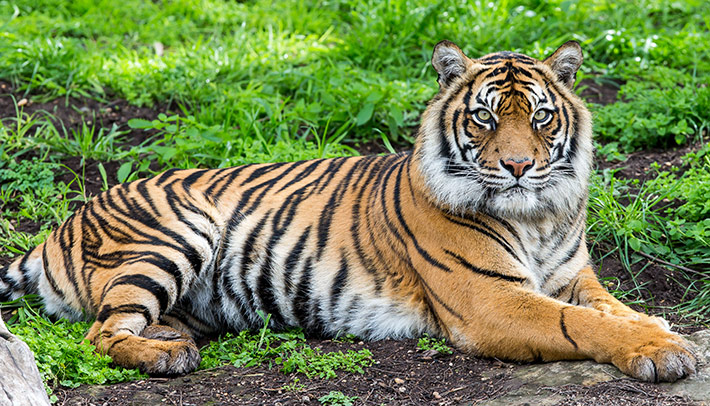 Track your impact
Something special is happening at Taronga's Tiger Trek. Over 103,000 messages of support from guests have been sent to some of Australia's favourite and tiger-friendly brands.
Together, we have sent a loud and clear message to companies that use 100% Certified and Sustainable Palm Oil to say thank you for doing their part to protect the environment and the people and wildlife that live in it.
You can read direct messages from companies to your collective emails here.
It's clear that one action can make the world of difference to tigers.
A message from Ferrero
Ferrero congratulates and thanks Taronga Zoo's guests for the email communications recognising the importance of using sustainably sourced Palm Oil.
Ferrero (makers of Nutella, Ferrero Rocher and Kinder) only uses 100% sustainable and RSPO-certified segregated palm oil. The oil is used to ensure that our products have the right consistency and structure and does not interfere with the characteristic flavours of the other ingredients. The certified palm oil that Ferrero uses is traceable, which means that it is kept separated from conventional palm oil along the whole supply chain. Segregation also allows us to identify the mill of origin of the palm oil, and thanks to the e-trace online system we can trace the physical trade of certified RSPO oil along the supply chain. Since March 2018, Ferrero publishes in the News section of our global corporate website www.ferrerocsr.com a full list of mills it sources from.
Ferrero has moved beyond certification by adopting a 'No Deforestation' policy, the Ferrero Palm Oil Charter. It is a robust, publicly available and time-bound implementation plan, working extensively with our suppliers together with third party auditor Bureau Veritas. We engage in this process to ensure our palm oil does not contribute to deforestation, species extinction, high greenhouse gas emissions or human rights violations. As a member of POIG (Palm Oil Innovation Group) since 2015, our Palm Oil Charter is also systematically based on the POIG Charter and its Verification Indicators.
Ferrero Australia voluntarily made the decision to declare its use of palm oil as a vegetable oil on our labels to provide transparent information to consumers. Detailed information on our palm oil sourcing and sustainable agricultural practices are available in our CSR report at www.ferrerocsr.com.
We hope this provides some reassurance and clarity around the use of palm oil in our products.
A message from Woolworths
Woolworths would like to congratulate Taronga Zoo and their guests on the continued success of the Tiger Trek! Thank you for creating awareness on the importance of responsible shopping choices through an immersive and innovative platform!
We care about forests and want to play our part in conserving them and the wildlife that call them home! That's why we have made a 2020 commitment to achieve net-zero deforestation in our supply chains for high impact commodities such as palm oil, paper, pulp, and timber!
We've made great progress toward meeting this commitment. We've supported the production of sustainable palm oil in all own-brand food since 2015, and have identified palm oil in own-brand non-food. We will be working with our suppliers to increase the uptake of sustainable palm oil derivatives/fractions.
It's one of the many ways we bring a little good to everyone, everyday!
Follow our progress at http://crs.woolworthsgroup.com.au/
A message from Unilever
As a founding member of the Roundtable on Sustainable Palm Oil (RSPO), Unilever strongly supports the need to move with pace to a fully sustainable palm oil industry and we're committed to sourcing 100% of our palm oil sustainably by the end of 2019. 
We know that when palm oil isn't sustainably sourced it can result in deforestation and degradation of peat land and contribute to the exploitation of people and communities who rely on the palm oil industry for their livelihoods. As part of our Unilever Sustainable Living Plan (USLP) and aligned with our Sustainable Palm Oil Sourcing Policy, we're working with key suppliers, NGOs and the wider industry to change this. 
That's why last year, Unilever became the first consumer goods company to publicly disclose the suppliers and mills we source from, both directly and indirectly. This marks a major milestone in our continued drive for a more sustainable palm oil industry. 
In Australia and New Zealand, we've made strong progress on our journey to source 100% traceable and certified sustainable palm oil. Since March 2015, all the palm oil we buy directly for our locally made foods and refreshments has come from traceable, certified (RSPO Segregated) sources. Globally, we sourced 67% of our palm oil and palm kernel oil from physically certified sources in 2018, achieved through a combination of segregated and mass balance supply. For palm oil alone, we reached 81% from physically certified sources. 
We're taking big steps towards greater transparency, but we know there is more work to be done to achieve a truly sustainable palm oil industry and we will continue our efforts to make this a reality. Find out more about our progress here. 
A message from IGA (Metcash)
Thank you for taking the time to express your concern about the impact of palm oil in our Community Co product range, which is proudly at home in IGA. Community Co is committed to ensuring all our products contain 100% Certified Sustainable Palm Oil to minimise our impact on the environment. We are currently working with our suppliers to identify when derivatives of palm oil have been used in order to ensure they are also sustainable.
Everything you need to know
Indonesia has some of the last remaining tropical forests on earth, home to the beautiful Sumatran Tiger. Yet, with as few as 400 left in the wild, this species is in real danger of disappearing forever.
 
Rainforests around the world have experienced devastating losses, being cleared to make way for ever-expanding unsustainable oil palm plantations, particularly in Indonesia, Malaysia and Papua New Guinea. 
We all know the importance of using environmentally-sustainable products and palm oil is no different. The oil itself is not the problem – the problem lies with how and where it has been produced. We all know the importance of using environmentally-sustainable products and palm oil is no different. The oil itself is not the problem – the problem lies with how and where it has been produced. Check out this great explainer video from Chester Zoo to learn about the palm oil supply chain.
Certified Sustainable Palm Oil (CSPO) is the best way to protect the environment and the people and wildlife that live in it.
Palm oil is unlikely to disappear in a hurry as it is highly productive ingredient when compared to alternative vegetable oils. This means that crops for other oils require larger amounts of land to produce equivalent amounts of oil. Palm oil has also contributed to economic growth and development across many countries throughout the tropics.
 
As it stands, the Roundtable on Sustainable Palm Oil is the most high profile and best represented organisation involved in certifying palm oil as sustainable, using standards based on an evolving set of Principles and Criteria (P&Cs) addressing a range of issues, including the environmental and social impacts of palm oil.