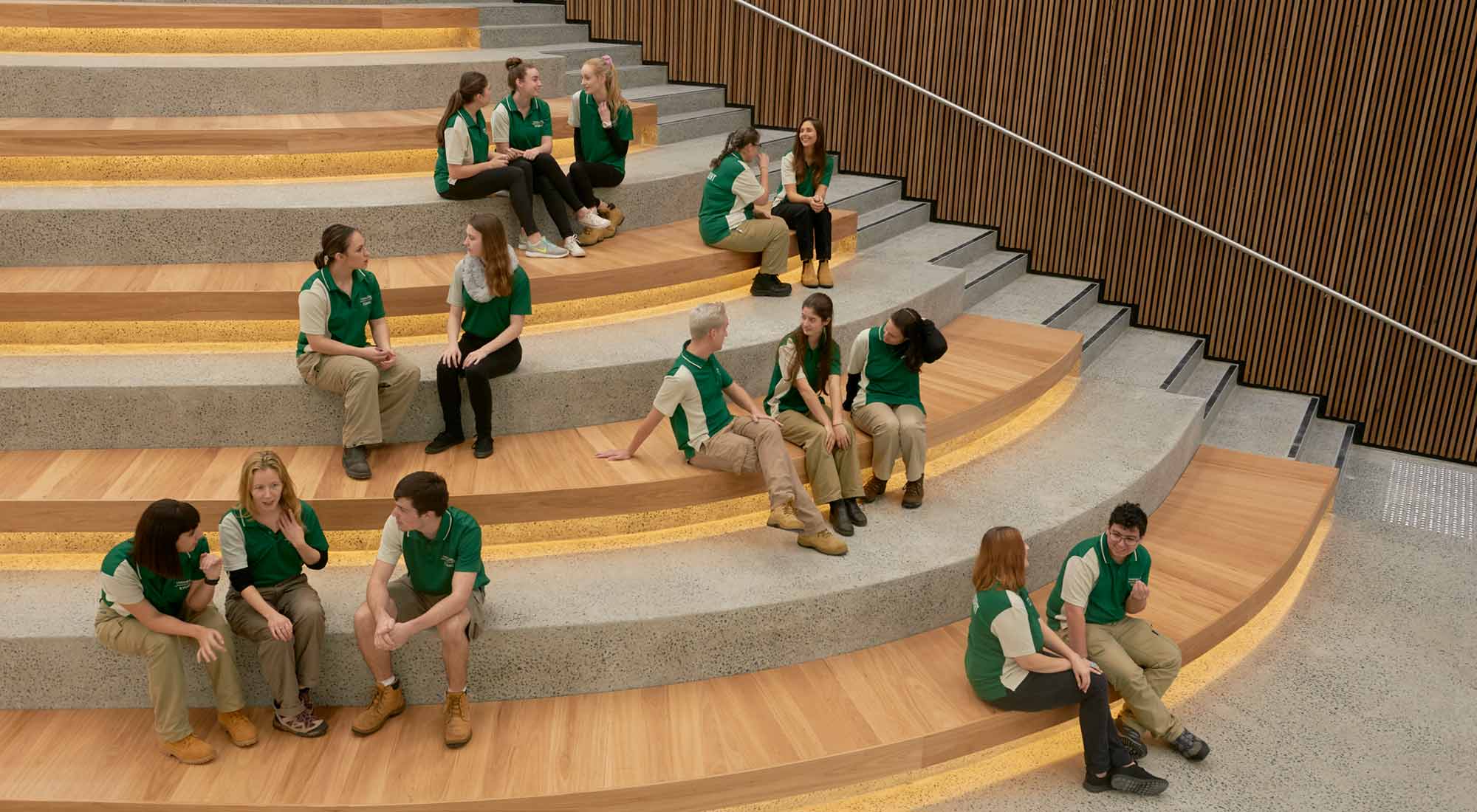 Commitment to education
The Taronga Institute, together with the Taronga Zoo Sydney and Taronga Western Plains Zoo sites, 'brings science to life' and demonstrates stronger alignment between school education programs offered and the Australian and NSW curriculums.
Educating our future
Education programs must inspire students and demonstrate clear links between classroom learning and outcomes to provide students with the skills, attitudes and knowledge required to contribute to conservation.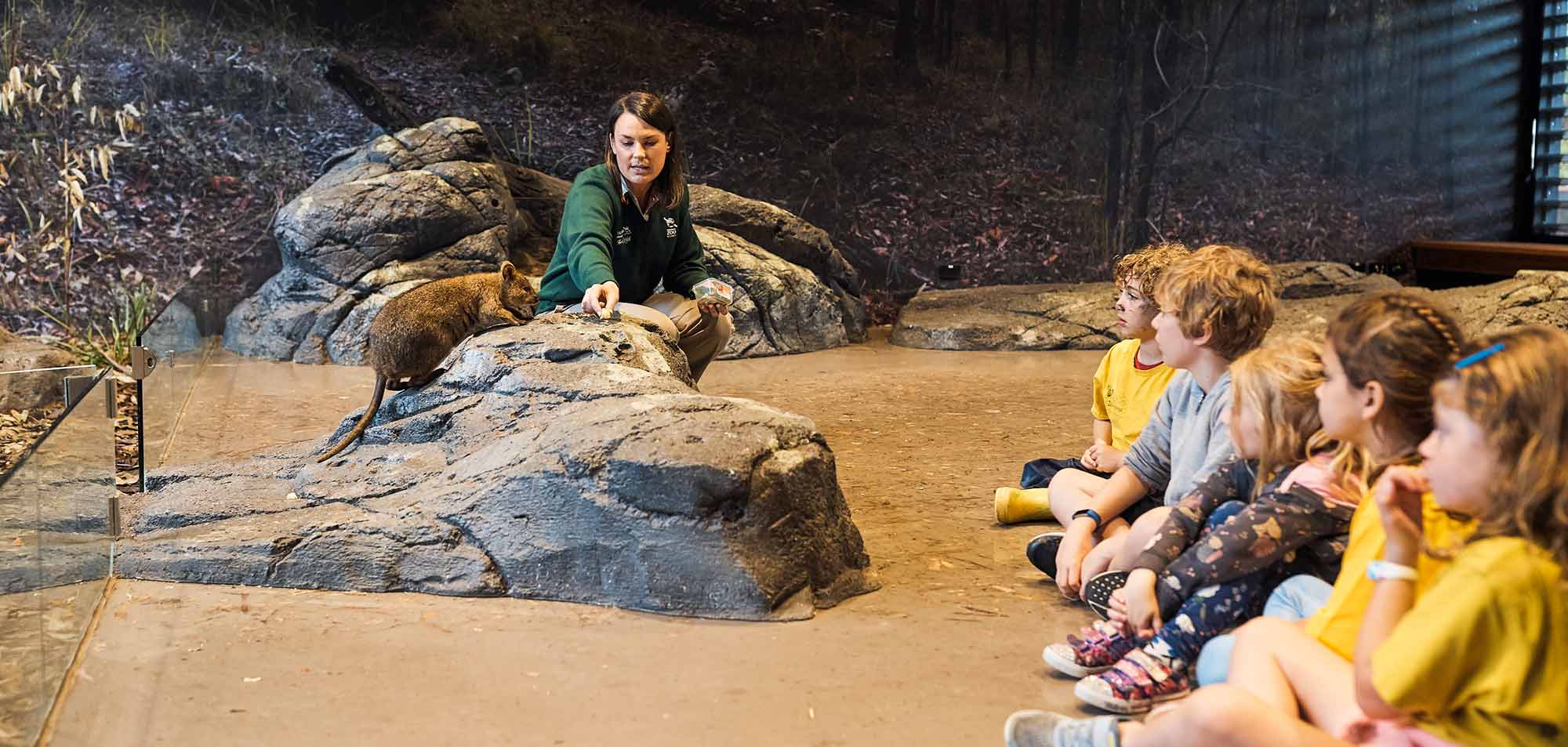 Immersive habitat classrooms
These multisensory spaces are the first of their kind in the world, themed around rainforest, desert and woodland habitats.
A blend of living animal habitat and classroom, these spaces provide authentic learning experiences that align with curriculum priority areas.
There are three immersive habitat classrooms within the Taronga Institute replicating three differing habitats: Rainforest, Desert and Woodlands.
Find out more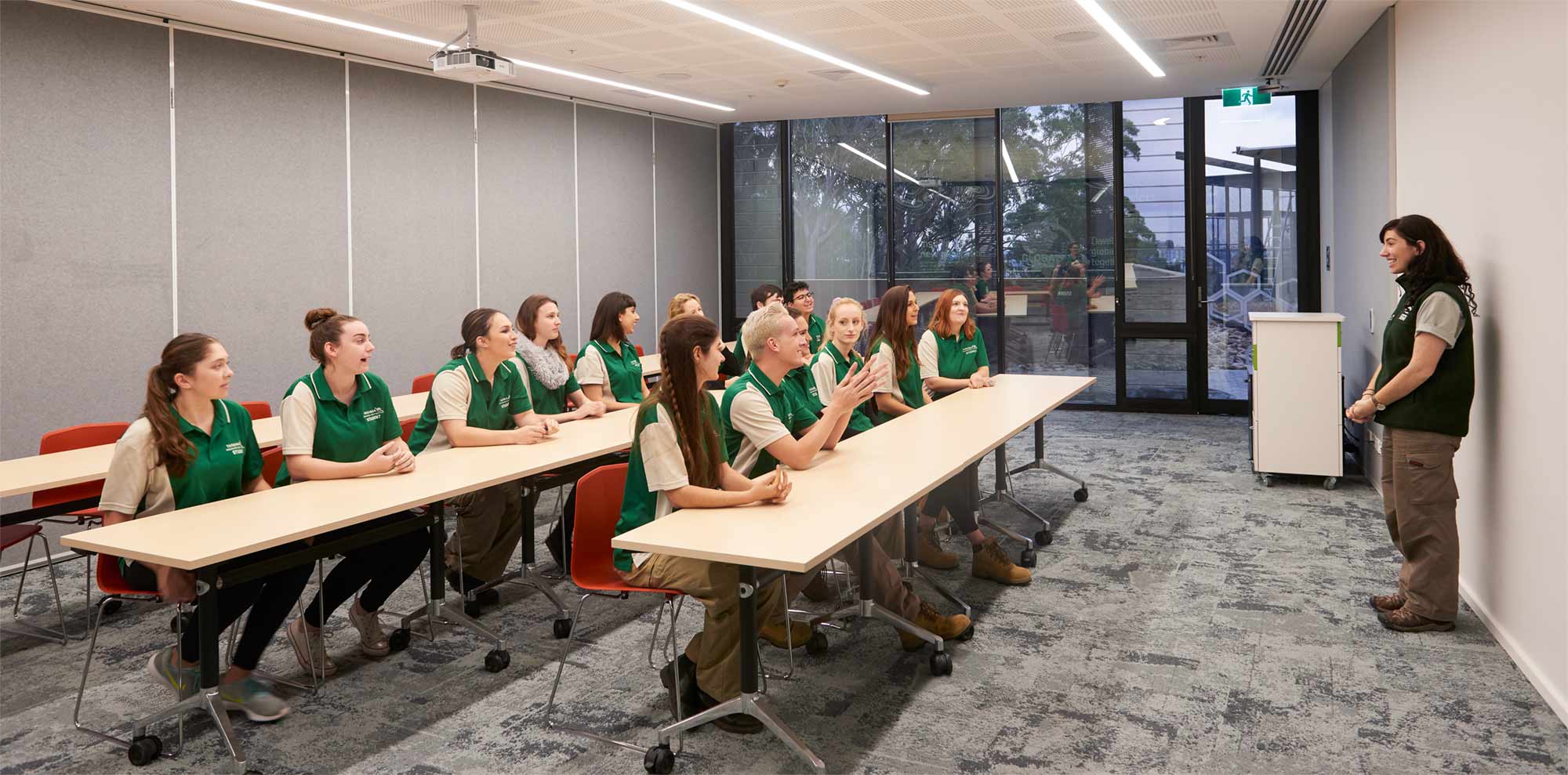 Inspiring uptake of STEM subjects
Taronga's aim is to inspire and educate the next generation of conservation scientists. The Taronga Institute supports the essential need for contextual authentic STEM learning and, together with the wider Zoo sites, provides authentic, interactive learning opportunities in an environment of working science. The co-location of teaching facilities and research labs creates tangible links between theory and practice.
Find out more
Book your excursion
The Taronga Institute has a range of learning spaces including our immersive habitat classrooms. 
Get involved
Find out more about how you can support the Taronga Institute and be a champion for change.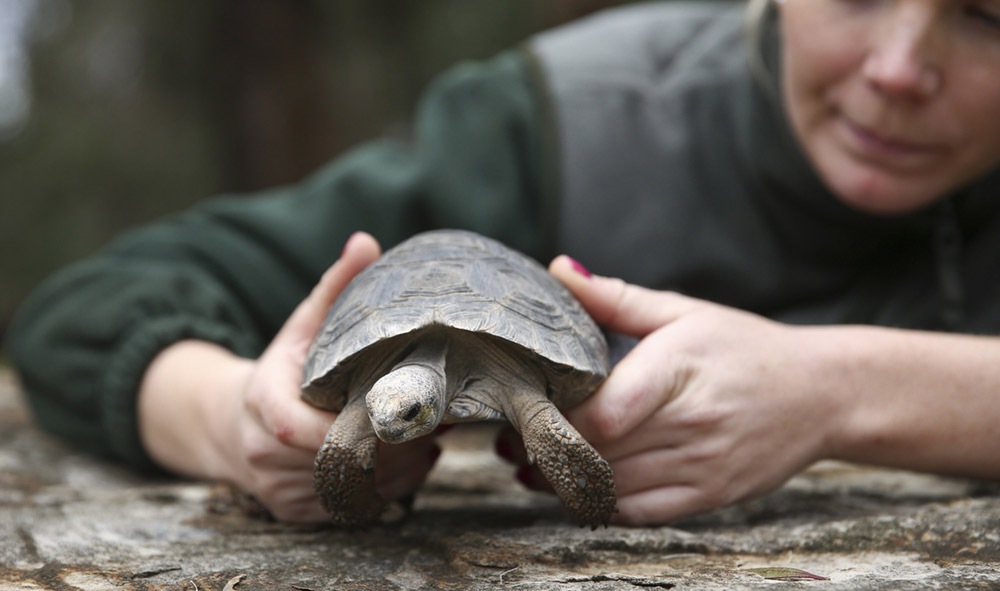 Higher education
The Taronga Institute also caters to students' higher education course needs by offering various programs aimed to achieve positive outcomes for wildlife. 
Enrol into a Certificate course delivered by the Taronga Training Institute and take inspiring classes at Taronga Zoo Sydney, Taronga Western Plains Zoo in Dubbo, Perth Zoo or Melbourne Zoo.
Experience our innovative alliance with the University of Sydney and undertake a University of Sydney degree programs to develop skills and expertise in conservation. 
Learn about the core issues at the heart of Taronga's mission and see the Zoo from a new perspective in a tertiary workshop, tour or lecture tailored to compliment your tertiary study.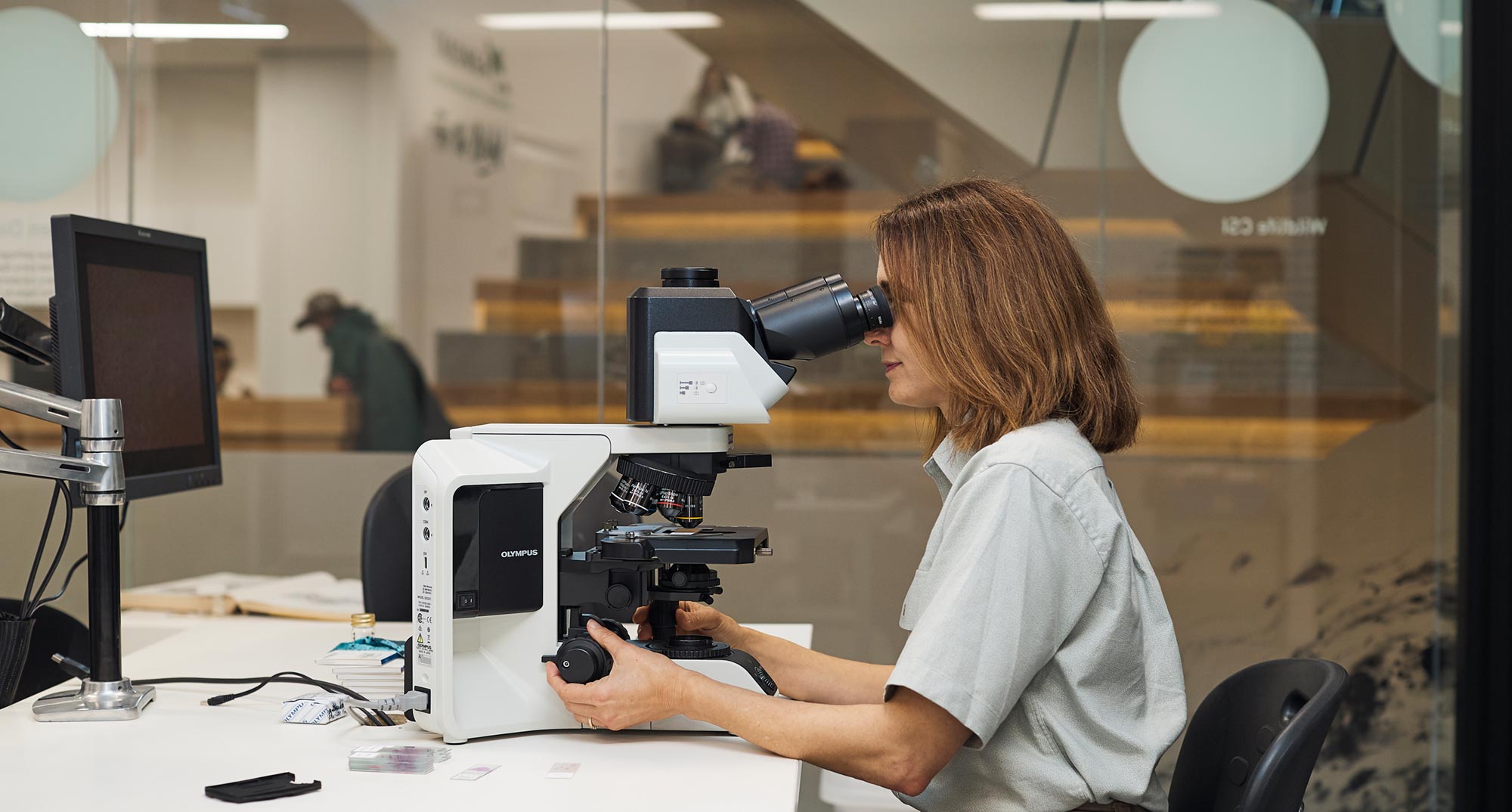 Centre for scientific excellence
Within the Taronga Institute there are a range of purpose built laboratories, including a multi-disciplinary research laboratory, teaching laboratory and Cryodiversity Bank.
These facilities have increased Taronga's research capabilities and enabled further engagement and collaboration with universities globally to address key conservation issues.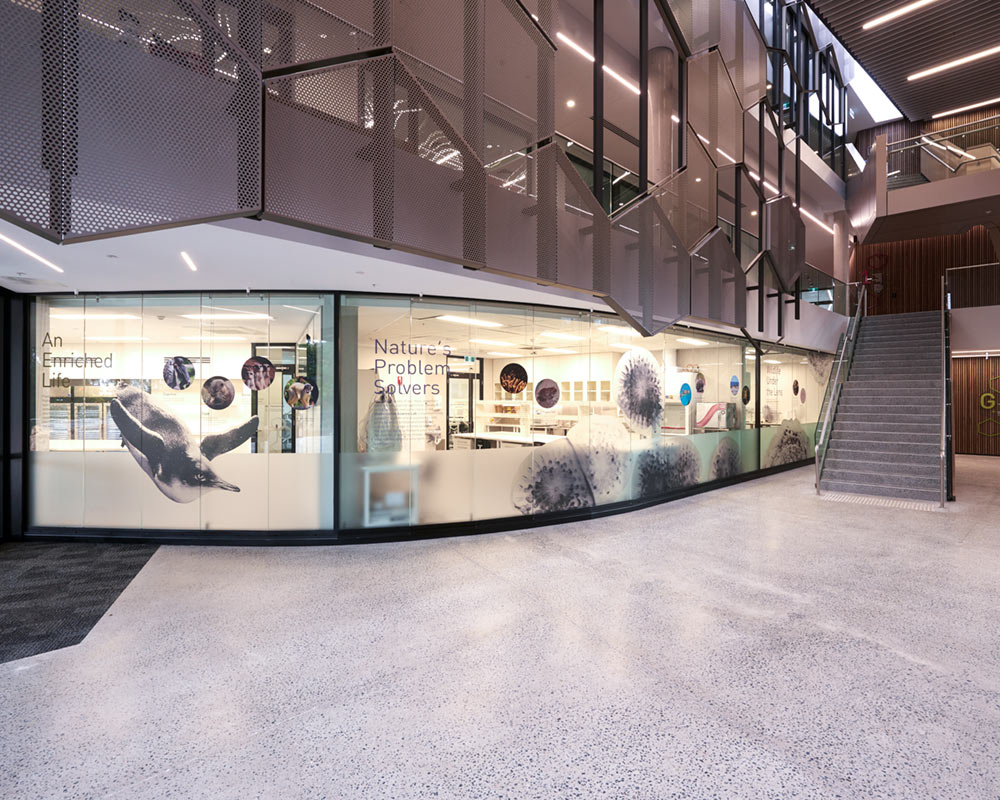 Laboratories
The Taronga Institute houses dedicated science labs to support Taronga's science team, including two multi-disciplinary labs, a behavioural ecology lab, wildlife health lab, Cryodiversity Bank lab and enrichment development centre.
Cryodiversity Bank lab
The Cryodiversity Bank lab, or 'frozen zoo', is preserving the largest collection of frozen coral cells from the Great Barrier Reef until they are needed to re-seed the reef. Taronga is collaborating with partner organisations to establish Great Barrier Reef coral 'cryopreservation'.
In November 2017, biologists collected and banked sperm and other cell types from eight species of hard corals on Heron Island, bringing new genetic diversity to Taronga's Cryodiversity Bank – which now houses 16 coral species and represents the largest coral bank in the world.