Posted on 15th November 2023 by Media Relations
11 Chuditch Released
Taronga's quest to restore the endangered Chuditch to its former range has reached another milestone with 11 individuals released to Australian Wildlife Conservancy's (AWC) Mt Gibson Wildlife Sanctuary on Badimia and Widi Country in the West Australian Wheatbelt, after a more than 4,000-kilometre journey by road and air from Dubbo in NSW.
Also known as Idnya or Western Quoll, the Chuditch were bred at Taronga Western Plains Zoo on Wiradjuri Country, within the 110-hectare feral predator-proof Taronga Sanctuary.
"Taronga's crucial conservation breeding program commenced in Dubbo in 2022 with the aim of reintroducing the Chuditch to conservation areas where the species has become locally extinct following European settlement," said Taronga Conservation Society Australia CEO Cameron Kerr AO.
"Since the commencement of the program, Taronga has successfully bred 37 joeys, all intended for wild release. This wonderful achievement was made possible thanks to an expert, multi-disciplinary team and the Taronga Sanctuary which was first opened with philanthropic support in 2018 and has well and truly shown its impact as a conservation powerhouse in NSW."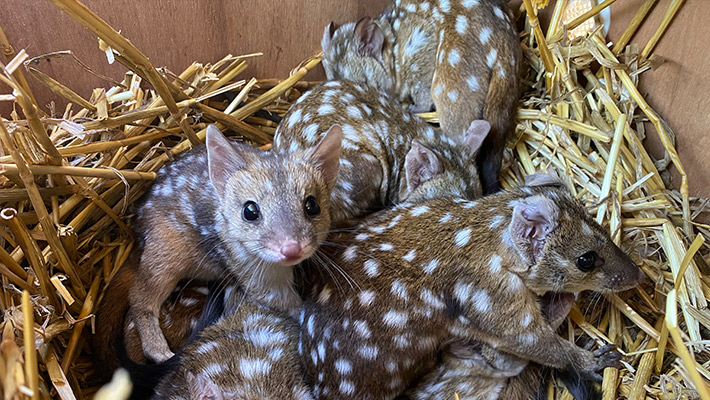 The Chuditch was once found across 70% of mainland Australia but has been reduced to just 5% of its former range and is extinct in the wild in NSW, NT and QLD. One of four species of quoll in Australia, Chuditch are WA's largest endemic carnivore.
"The cohort of 11 individuals were carefully selected from the conservation breeding program to ensure we inject genetically robust and diverse individuals into the newly established wild population at Mt Gibson," explained Taronga Wildlife Conservation Officer, Rachael Schildkraut.
"Taronga is proud to collaborate with the Australian Wildlife Conservancy on reintroduction efforts for this critical native predator."
Conservation keepers moved the quolls from the Taronga Sanctuary breeding facility to purpose-built transport crates to commence the journey to Perth via a combination of road and air travel.
The Chuditch spent two nights undergoing monitoring at Native Animal Rescue, before the final leg of the journey to Mount Gibson Wildlife Sanctuary, five hours outside of Perth. There they were fitted with VHF radio tracking collars before joining the newly established, 34-strong population of Chuditch released at the sanctuary earlier this year.
"We are thrilled to see that Mt Gibson's Western Quoll population has settled in and is showing promising signs of successful breeding," said Georgina Anderson, AWC Senior Field Ecologist.
"The new individuals from Taronga's breeding program add to the genetic mix of our population. Our post-release monitoring efforts will be ramping up again to monitor these new individuals using a combination of radiotracking and remote cameras."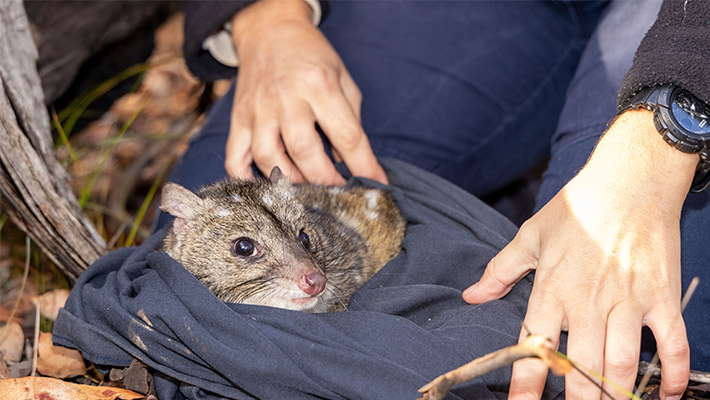 Chuditch are WA's largest endemic carnivore, and one of four species of quoll in Australia, related to the Tasmanian Devil. They have a relatively short life span of only three to four years and are generally solitary outside of the breeding season.
Taronga's Chuditch conservation breeding program commenced in 2022 in Dubbo, thanks to a generous philanthropic donation from the Kinghorn Foundation. Within the first year of the program, 14 offspring were born from just four breeding pairs, and 15 individuals were released into the wild at South Australia's Vulkathunha-Gammon Ranges National Park.
In the second year of the program, new founders were selected in collaboration with the Western Australian Department of Biodiversity, Conservation and Attractions (DBCA), and the South Australian Department for Environment and Water (DEW), to introduce fresh genetics into the program.
The Western Quoll was the 10th mammal species released at Mt Gibson Wildlife Sanctuary as part of an ambitious reintroduction project.
For more information on Taronga Conservation Society Australia's breeding program, click here. For more on the Western Quoll and Mt Gibson Wildlife Sanctuary, click here.