What's on
Platypus waddle their way back into the wild, with our help
For the first time in decades, the platypus has returned to the Royal National Park!
This milestone was made possible thanks to a unique collaboration between Taronga Conservation Society Australia, University of NSW, NSW National Parks and Wildlife and WWF Australia.
As a Zoo Friend, your membership helps support our ongoing conservation efforts for this unique species. Find out what else you can do to help.
Congratulations to the winner of our Mother's Day competition
Every Zoo Friend who came to the Zoo over Mother's Day weekend went into the draw to win a get-away the Ultimate Retreat stay for 2 adults at our award-winning Wildlife Retreat*. 
Our winner was very excited to win this wonderful prize and was debating whether she needed to give it to her son who suggested the trip to the zoo for the whole Zoo Friend family. In the end it was agreed that the prize was an extension of the Mother's Day celebrations. Congratulations and enjoy your stay.
You can be a Keeper for a day!
Book this once-in-a-lifetime experience to learn how our dedicated staff care for the vast range of animals that call Taronga Zoo Sydney home.
Go behind the scenes of the Zoo to see a day in the life of a Zookeeper, helping plan enrichment activities, preparing food, and coming eye-to-eye with some of our cheeky animals. 
This experience is available for adults and Juniors. And, as a Zoo Friend you get a 15% discount on this wild experience. 
Limited availability, book today!
 
The Wild Lights are ON!
Some sessions are already SOLD OUT, so grab your Zoo Friends discounted tickets today so you don't miss this immersive event perfect for guests of all ages.
Explore the Zoo after-dark along our brand-new luminous light trail to see festival-favourite animal lanterns and new magical light installations.
Bigger and wilder than ever!
Click below or enter the promo code ZFLIGHTS when purchasing online.
Wild Ropes after dark!
You can now adventure up high amongst the treetops while gazing down on magical animal lanterns at Wild Lights on Taronga's high ropes obstacle course!
Add the Wild Ropes experience to your cart when purchasing Wild Lights tickets for an exhilarating adventure you won't forget! 
Already bought your Wild Lights ticket? Not a problem. You can still buy an add-on Wild Ropes experience.
Chimp-ly the best news!
We are overjoyed to announce the arrival of a healthy baby born into the Zoo's Chimpanzee community early last week. The female baby arrived in the early hours on Tuesday 23 May to experienced Chimpanzee mother Lisa. Keepers observed Lisa introducing the newborn to Taronga's wider chimpanzee community, which is now made up of 21 individuals.
The Chimpanzee community have the choice to move freely between indoor spaces behind-the-scenes or to be outside in their open-air sanctuary, so whilst Zoo guests may get glimpses of the newborn with Lisa, it is more likely to spot the playful and adventurous antics of three young juveniles in the group who range between two and a half- to five -years-old.
Join the zoo's Chimpanzee Keeper Talk at 12pm daily to hear from expert keepers about the community and conservation actions being carried out for this incredible species.
Member benefits
Winter Warmer offer for Roar and Snore!
Book your Roar and Snore adventure in June to stay anytime before 31 August 2023 and we will double your discount to 20% off. 
Lock in your dates and discount today for your upcoming stay. Enter promo code ZFJUNE when booking.
View your member benefits
As a Zoo Friend, you get access to a range of exclusive activities, news and events, along with 365 days unlimited Zoo access. Find out more about ALL the benefits you can access.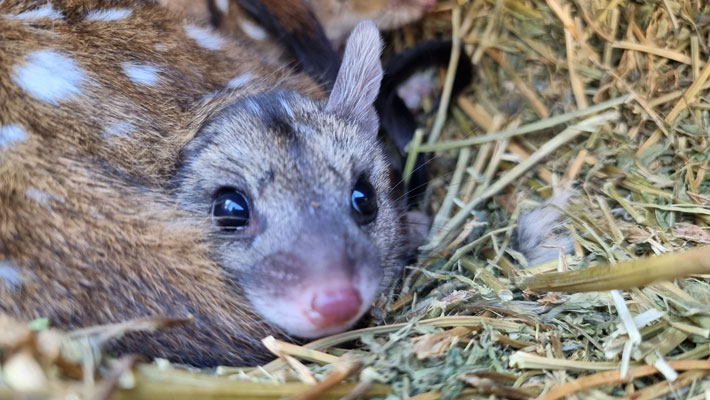 Animal Corner
Chuditch!
This month we bring you fun facts about the wonderful Chuditch, which are also known as western quoll (Dasryurus geoffroii).
Fun Facts about Chuditch:
Is about the size of a domestic cat. 
It has 40–70 white spots on its back with a creamy white underside. These spots help diminish its outline from the moon at night when hunting. 
With large eyes and pointed ears, it is well adapted for nocturnal life. 
They're most active around dusk, hunting
During the day they seeks refuge in hollow logs or earth burrows as dens
They save energy by lowering their body temperature in their sleep.
Predation by feral cats and foxes is a serious threat to the persistence of Western Quolls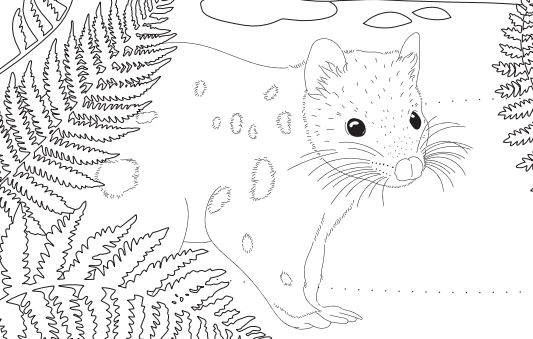 Kids Corner
Have a great time with this month's colouring in download!
This month we continue our 2023 colouring adventures with Chuditch.
Colour in at home and get creative.
Download
Member hub
Manage all elements of your membership online with the Zoo Friends Membership hub. 
You'll be able to:
View the details of your membership group
Quickly register a visit to Taronga Zoo Sydney or Taronga Western Plains Zoo Dubbo
Renew your membership in just a few clicks
PLUS, have first access to exclusive member-only Taronga Experiences - coming soon!
First time accessing the membership hub?
If you are a current or lapsed member, but have not yet accessed this system, you'll first need to create your account to manage your membership. This can only be done by the primary member, which is the person who receives email communications about your membership. They'll need their member number (which can be found on your membership card, or in the top right corner of emails), and the email address you provided on signup.
For more information on how to create your account, visit out webpage. 
Zoo Friends. A membership that Saves Wildlife.