Taronga works continuously to identify water saving opportunities at both its Zoos, by recycling and reusing water, and reducing the use of fresh water.
Providing sustainable sources of water 
In an effort to reduce single use bottled water, Taronga Zoo Sydney and Taronga Western Plains Zoo Dubbo have several water fountains located around grounds. The water stations are marked on our Zoo maps and mobile apps to encourage visitors to use reusable bottles to stay hydrated. We also sell reusable bottles and Keep Cups in our Zoo shops.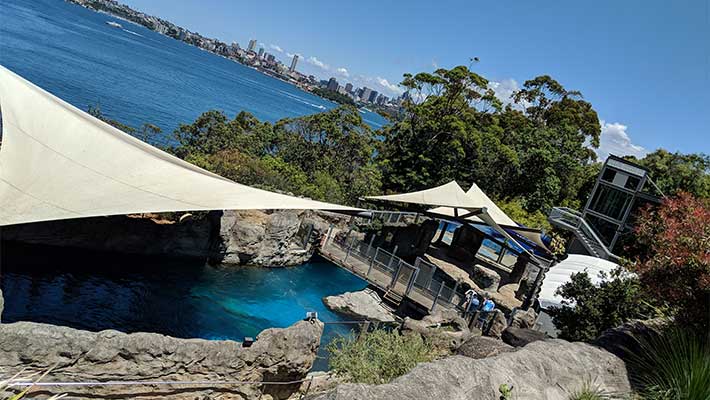 Water treatment plant
Taronga Zoo Sydney
Taronga Zoo Sydney built a wastewater treatment plant in 1996 to treat and recycle fresh water, as part of an original 'Clean Up Australia' initiative. The primary aim of the plant is to keep Sydney Harbour clean and healthy while minimising the volume of fresh water needed for the activities undertaken on a daily basis at the Zoo. 
The treatment and reuse plant has recently been upgraded and now includes a new storm water tank, a new micro-filtration unit and process enhancements. The new system aims to reclaim up to 100 million litres of water annually. This project is supported by the NSW Government's Water Savings Fund, which is now part of the NSW Climate Change Fund. 
The four major uses for recycled water at Taronga are: 
Hosing down of animal exhibits 
Exhibit moat filling 
Toilet flushing 
Lawn and garden irrigation 
The key benefits of using recycled water include the following: 
Reduces the dry weather discharge into Sydney Harbour 
Reduces our reliance on Sydney Water's fresh water supply, particularly during water restriction periods 
Supports the principles of waste avoidance and resource recovery 
Demonstrates effective water recycling resulting in educational benefits and technology sharing 
Because our water supply comes from our onsite recycling plant, Taronga Zoo is exempt from the Level 1 water restrictions applied to the Sydney area on 1 June 2019.
Water efficiency measures
Taronga Western Plains Zoo Dubbo
At Taronga Western Plains Zoo Dubbo we use a combination of river water and rainwater harvesting for irrigation, to fill moats and hose down animal enclosures. This drastically reduces our consumption of treated potable water. 
In 2017 substantial work and investment was allocated towards a new water pumping, pipe and irrigation system in Dubbo. The new system will result in an overall decrease of water leaks and river water consumed, while more efficient pumps will result in a decrease in electricity consumption. Another benefit of the computerised system is that it allows for automated exhibit moat refilling, ensuring levels are kept consistent and moats are not over-filled. 
Water quality testing and monitoring
Taronga Zoo Sydney holds an Environment Protection Licence (EPL #: 1677) to discharge water into Sydney Harbour. This licence is issued under the Protection of the Environment Operations Act 1997 (POEO Act).
In accordance with section 66(6) of the Act, Taronga is required to publish pollution monitoring results gathered as a result of Taronga's Recycled Treatment Plant operation. The intention of this requirement is to improve the general public's access to information about the environmental performance of licensed facilities.
Water quality monitoring results are available to the public online, please refer to the link in the sidebar.