Posted on 17th November 2023 by Media Relations
Eastern Long-necked Turtle returned to the wild
An Eastern Long-necked Turtle has been returned to the wild near Narromine after receiving life-saving treatment at the Wildlife Hospital at Taronga Western Plains Zoo.
The turtle was rescued by a member of the public from a road in the Narromine region, and brought to the Wildlife Hospital where x-rays revealed several shell fractures.
Over the next 11 weeks the Zoo's veterinary team stabilised one fracture, flushed and cleaned another, conducted regular x-rays, and provided the turtle with pain relief, antibiotics and fluid support.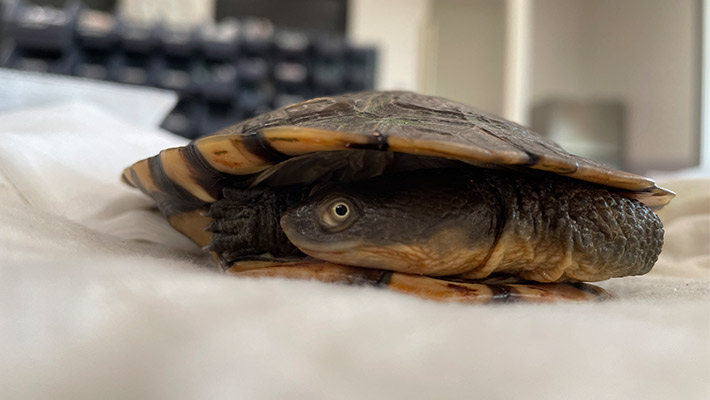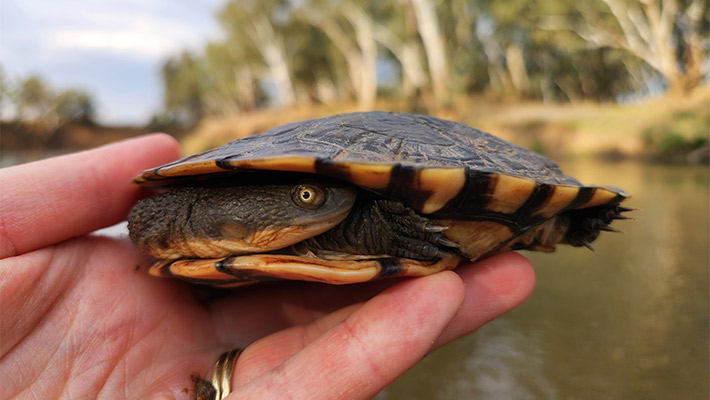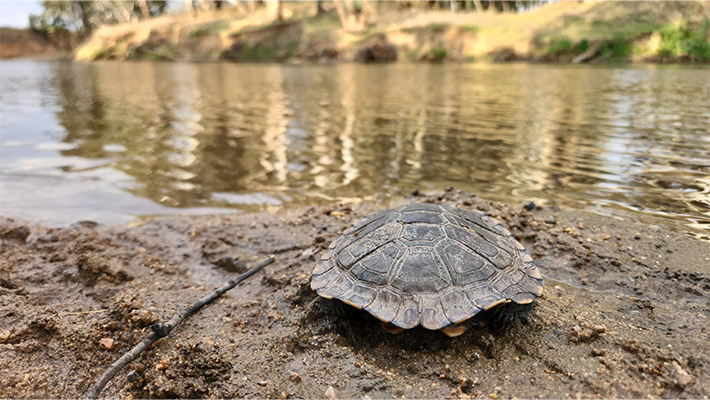 "Australian snake-necked turtles eat in water, but for wounds and fractures to heal they need to be dry and clean, so the turtle was allowed in water for an hour every few days to eat and maintained in a warm, dry hospital enclosure for the rest of its time here," said veterinarian Dr Sarah Alexander.
"After a couple of weeks, it started eating well, and 10 weeks after arrival we were able to remove the pin that had been stabilising the fracture."

The turtle was released into the Macquarie River near the Warren Road by veterinary nurse Katrina Burrell, who said releasing animals back to the wild "is the best part of my job".
"We selected this release site as it was close to where he was originally found, but it was also good natural habitat for the turtle and in a safe area away from the road," she said.
"Every year we see a lot of injured and diseased animals at the Wildlife Hospital, and unfortunately not all can be successfully rehabilitated and released. So when we do get to release animals back to the wild it is incredibly rewarding and fulfilling to know that we can have a positive impact on our local native wildlife and ecosystems.
"There is growing pressure on our ecosystems from changing climate, severe weather events, human interference and habitat destruction, which results in a lot of injured, diseased and displaced animals. So having a direct role in helping them with a second chance is a huge part of why I love my job."
Dr Alexander said the case was a reminder for motorists to take care on the roads.
"As it has warmed up, our reptiles in particular are out exploring during most of the day so if you're lucky you'll see a lot more of them," she said.

"If you find any injured wildlife on the roads, the best thing you can do is to call WIRES and one of their carers will be able to assist in getting the animal to us or another local wildlife hospital.
"It's always heart-warming to take an animal that in all likelihood wouldn't have made it without our help, treat it, keep it comfortable and support it while it heals and then release it back into the wild, it's one of the most satisfying parts of our job.
"This turtle was just a juvenile and Australian snake-necked turtles can live for up to 50 years, so knowing you've helped save an animal that hopefully has a long life ahead of it is a great feeling.
"We hope it will go on to live a long and happy life out in the wild."